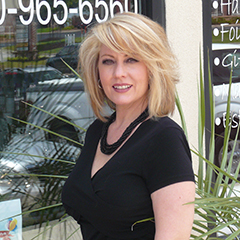 Michelle Gudz
Owner
As a salon owner, Michelle's number one goal is customer service. She is committed to building a solid foundation with excellent, highly trained stylists. Team work, experience, and trust is essential in order to have a successful salon. She believes education and staying current with ongoing trends, is a necessary requirement for herself and her staff. In doing so, the stylists are equipped to create a personalized look for each individual client. During the 20 years of a Master Color Specialist/Stylist, she has worked with many color lines such as Matrix, ISO, Wella, Redken, Schwarzkopf, Goldwell, Pravana, and Keune. Aloxxi Italian Colour is the select choice for its longer lasting, superior grey coverage, low ammonia, finest pigments, and incredible shine.Michelle has the ability to understand the desired vision of the client, and incorporate that, with what is possible to create that personal look. She enjoys artful expressions through formal designs, and excels in creative colour formulation, as well as cuts that are classic and timeless, or razored and edgy. E-mail Michelle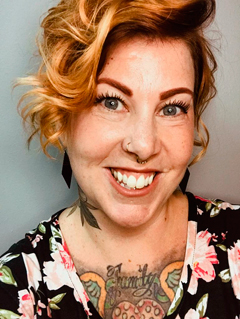 Brandi Rechin
Stylist
Brandi Rechin has over 17 years experience in Master Cosmetology. Specializing in fashion colors,beautiful cuts,lash extensions, and certified Brazilian blowouts. She has received training in Atlanta and New York and has runway hair experience. Her warm personality, skill, commitment to customer service is very welcoming and she would love to have you in her chair.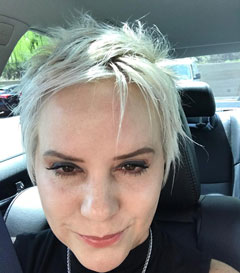 Josette Jeanis
Stylist
I am a master cosmetologist with over 30 years of experience. I hold an instructors license and I believe that continuing education is an important part of my philosophy, allowing me to provide the most current looks and constantly elevate the level of my craft. My versatility and expertise enables me to collaborate with my clients while deciding which styles and colors will both look amazing and suit their individual lifestyle. I look forward to bringing your vision to life.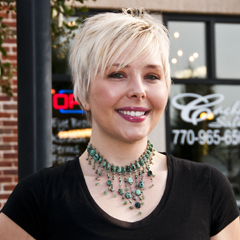 Victoria Conolty
Esthetician
Victoria has been passionate about anti-aging and skincare since she was a teenager. She brings a holistic approach to skincare and believes that enhancing the beauty of her clients leads toward a happier and healthier life. She believes that lifestyle and diet have a direct correlation to how young and healthy skin appears, as well as internal health. This inspires Victoria to bring a high level of service from initial consultation to aftercare. Victoria graduated from the Elaine Sterling Institute School of Esthetics in Sandy Springs, GA. She was trained in basic esthetics and skincare, including European facial, body treatments, product knowledge & ingredients, makeup, waxing, face & d collet massage. She also learned advanced esthetics, including advanced skin analysis, chemical peels, microdermabrasion, LED and Tri Active Laser and Brazilian waxing. She continues to further her knowledge and skills by taking classes and researching current trends in the beauty industry. She cares about her clients and takes pride in being available for any questions or concerns they may have. Products of Choice: Image Skincare and Jane Iredale Skincare Makeup.
Alissa Coulter
Receptionist
Alissa has had the pleasure of being a part of the Cache family for two years. During her two years as receptionist and assistant to owner Michelle, she has come to love the craft of hair design. Between booking your appointments with your favorite stylist or helping you find the perfect stylist, she has been busy apprenticing under Michelle learning the trade of hair designer. With a passion for color and the help of her diversely talented co-workers, she hopes to one day soon have you in a chair of her own and help your vision come to life.